Regular price
Sale price
$19.99 USD
Unit price
per
Sale
Sold out
At Weaver Family Farms Nursery, we proudly present the captivating Weeping Willow (Salix babylonica). This iconic deciduous tree is known for its graceful, cascading branches that create a serene atmosphere in any outdoor space. With its elegantly draping foliage and distinct silhouette, the Weeping Willow is a stunning focal point that effortlessly captivates the eye.
Imagine the soothing rustle of the willow's leaves in the breeze, creating a tranquil ambiance that's perfect for relaxation and reflection. As a fast-growing tree, it quickly establishes itself and provides ample shade, making it an ideal choice for larger landscapes. Its striking appearance is matched only by its adaptability, making it a cherished addition to a variety of garden styles.
Experience the beauty and tranquility that the Weeping Willow brings to your landscape. Elevate your outdoor oasis with this majestic tree, available now at Weaver Family Farms Nursery. Embrace the timeless elegance and distinctive charm that the Weeping Willow offers to transform your garden into a haven of natural beauty."
WEEPING WILLOW TREE INFO
Name: Weeping Willow
Other Names:
Salix babylonica
Grow Zone: 4 to 10
Growth Speed: Fast
Light Requirements: Likes Full Sun to partial shade
Average Full-Grown Height: 30' - 40' ft
Average Full-Grown Width: 30' to 40'
Deciduous (loses Leaves) Or Evergreen (Holds Foliage All Year): Deciduous
Average Lifespan: 30 to 50 years
ESTIMATED SIZE
Sizing can vary, but the average height of the plant according to the pot size they are growing in is below. A larger pot size does not always prove a much taller plant, but you will have a more extensive root system.

Trade Gallon Pot — Up To 18" inches tall (fewer roots than two-gallon size)
Two Gallon Pot — 18-30" inches tall (more roots than trade gallon size)
Shipping

All of our trees ship Bareroot which means they will ship with no soil and no pot. This allows the plants to have a safer trip through the mail as well as to cut down on shipping costs majorly. The roots will be carefully removed from the pot they are growing in, and then wrapped in moist material with the roots sealed up to keep them moist during transit. 
Shipping Restrictions

To follow your state regulations, we can not ship this plant to California, AZ, AK, HI

Deliveries to WA, UT, ID, NV, MT, ND, and SD MUST be shipped Bareroot.
View full details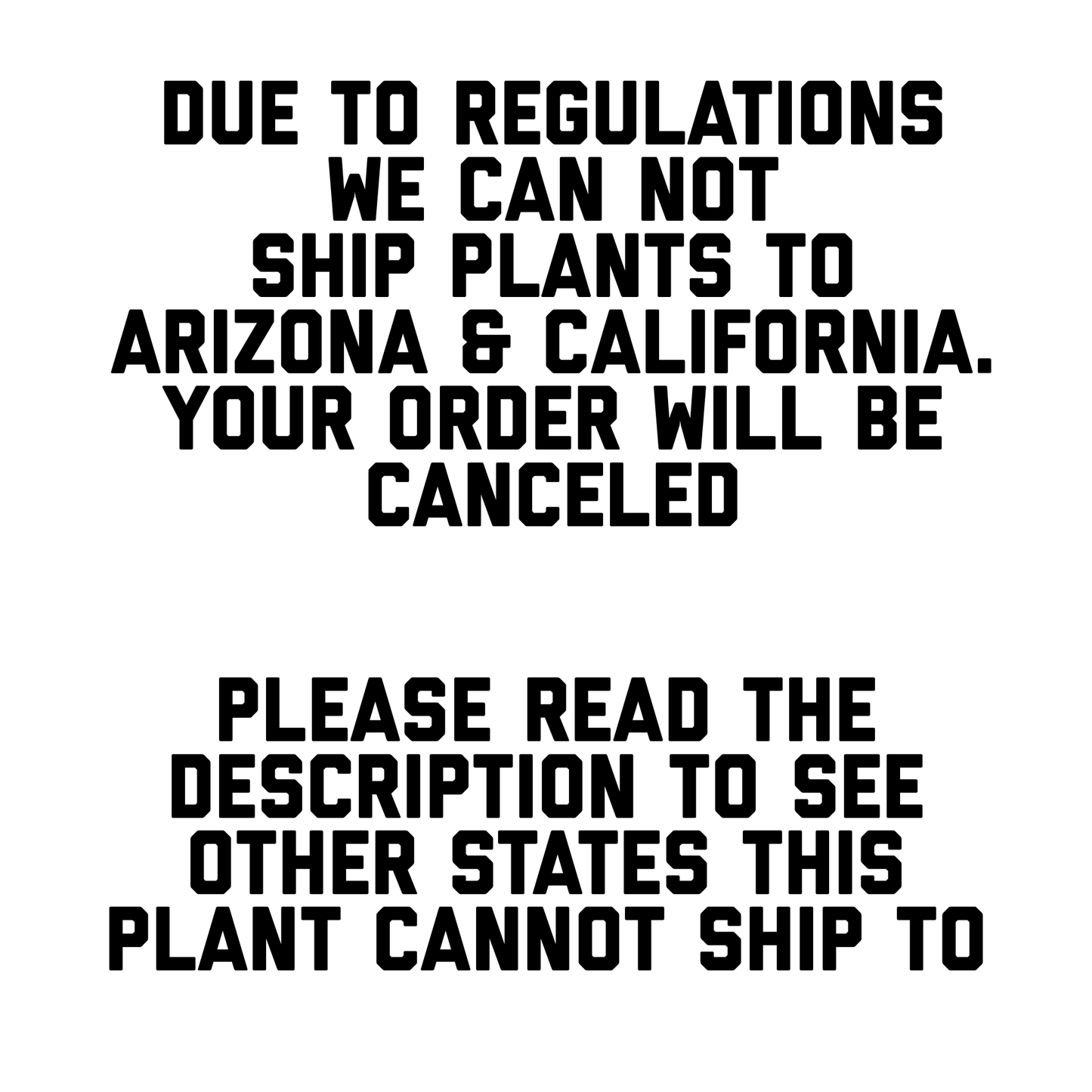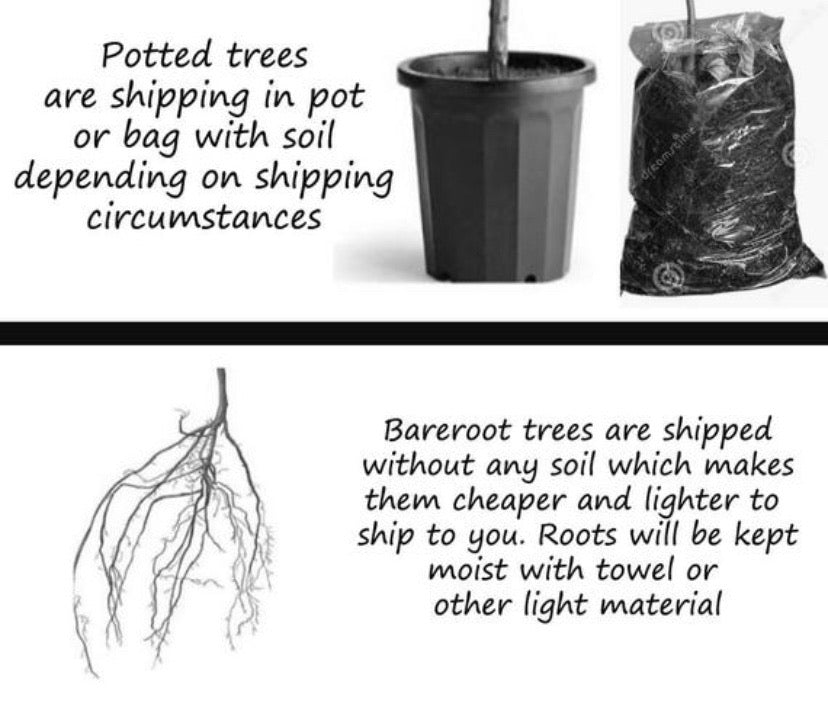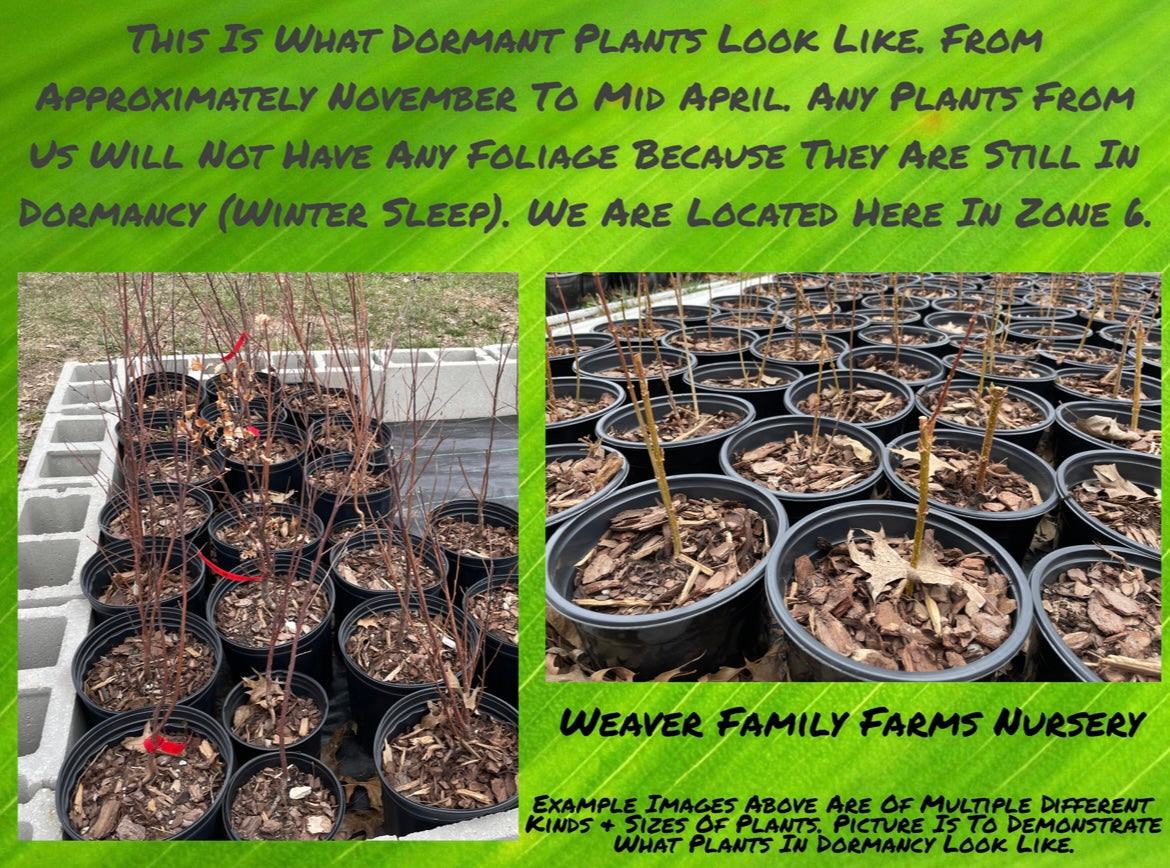 What Grow Zone Are You In? It Is Very Important To Know Your Grow Zone Before You Plant Anything In The Ground. If The Plant Cannot Tolerate Your Grow Zone, It Will Not Live.