Regular price
Sale price
$19.99 USD
Unit price
per
Sale
Sold out
Discover the allure of the Pee Gee Hydrangea (Hydrangea paniculata), a classic garden favorite loved for its effortless elegance. This hardy shrub thrives in USDA Hardiness Zones 3 to 8, adapting to various climates with ease. Its pyramid-shaped flower clusters start creamy white, transitioning to a stunning blend of pink and bronze as the seasons change.
Low-Maintenance Charm: The Pee Gee Hydrangea requires minimal care and maintenance. It flourishes in well-drained soil and thrives in full sun to partial shade. With little pruning needed, it effortlessly maintains its appealing form throughout the year.
Year-Round Delight: Beyond its breathtaking summer-to-fall blooms, this hydrangea offers year-round interest. In winter, its textured exfoliating bark and dried flower heads create a picturesque landscape. Plus, it attracts pollinators, making it a garden favorite for all seasons.
Versatile Garden Addition: Whether you seek a striking focal point, charming border, or patio garden enhancement, the Pee Gee Hydrangea is a versatile choice. Elevate your garden's beauty effortlessly by adding this timeless gem today.

This hydrangea is one of the larger size ones that can reach decent heights and you can train it into a small tree with a single trunk if you start when young.
PEE GEE HYDRANGEA INFO


Name: 'Pee Gee' Hydrangea
Other Names: Hydrangea
Grow Zone: 3-8
Growth Speed: Medium To Fast
Light Requirements: Likes Full Sun but can tolerate some shade
Average Full-Grown Height: 10' to 20' ft
Average Full-Grown Width: 10' to 20' ft
Deciduous (loses Leaves) Or Evergreen (Holds Foliage All Year): Deciduous
Average Lifespan: 50+ Years
ESTIMATED SIZE
Sizing can vary, but the average height of the plant according to the pot size they are growing in is below. A larger pot size does not always prove a much taller plant, but you will have a larger root system.
Quart Pot — Up To 12" inches tall (Less root size than gallon size)
Trade Gallon Pot 
— 12-24" inches tall (More Roots Than quart Size)
Shipping

All of our trees ship Bareroot which means they will ship with no soil and no pot. This allows the plants to have a safer trip through the mail as well as to cut down on shipping costs majorly. The roots will be carefully removed from the pot they are growing in, and then wrapped in moist material with the roots sealed up to keep them moist during transit. 
Shipping Restrictions

To follow your state regulations, we can not ship this plant to California, AZ, AK, HI

Deliveries to WA, UT, ID, NV, MT, ND, and SD MUST be shipped Bareroot.
View full details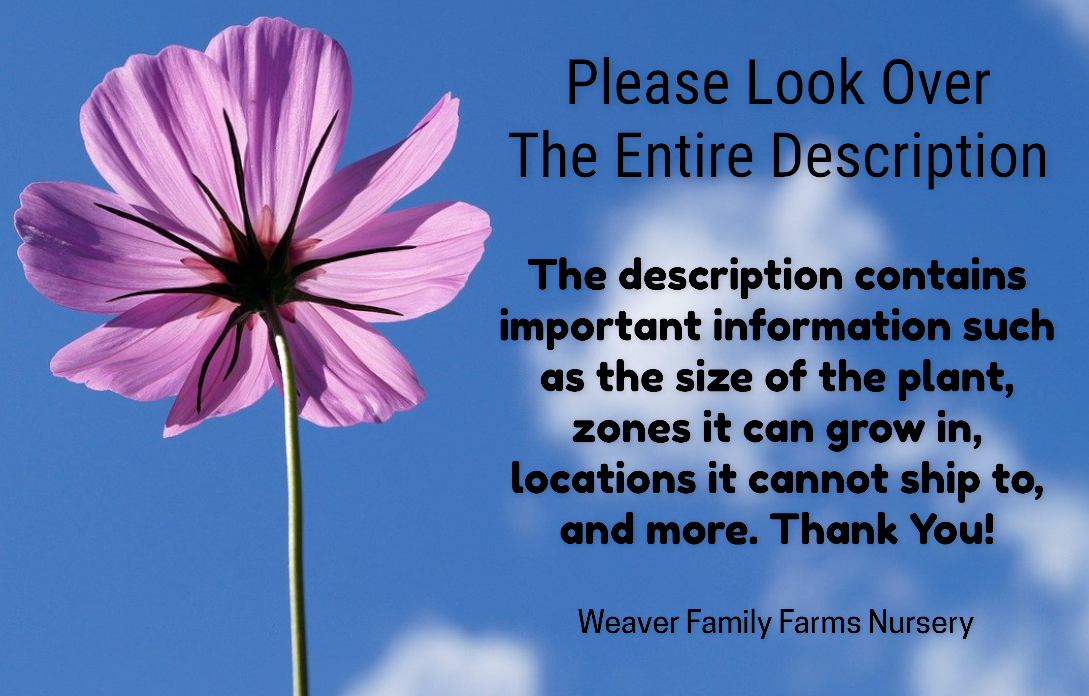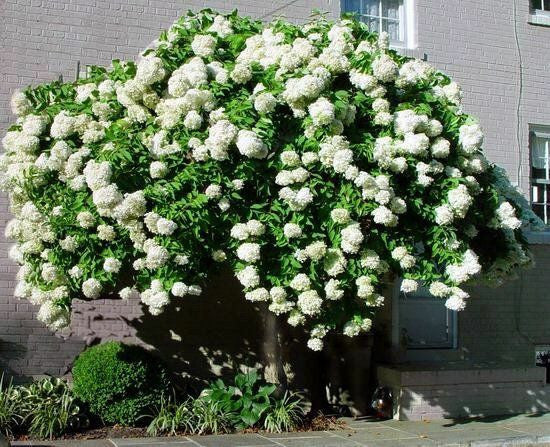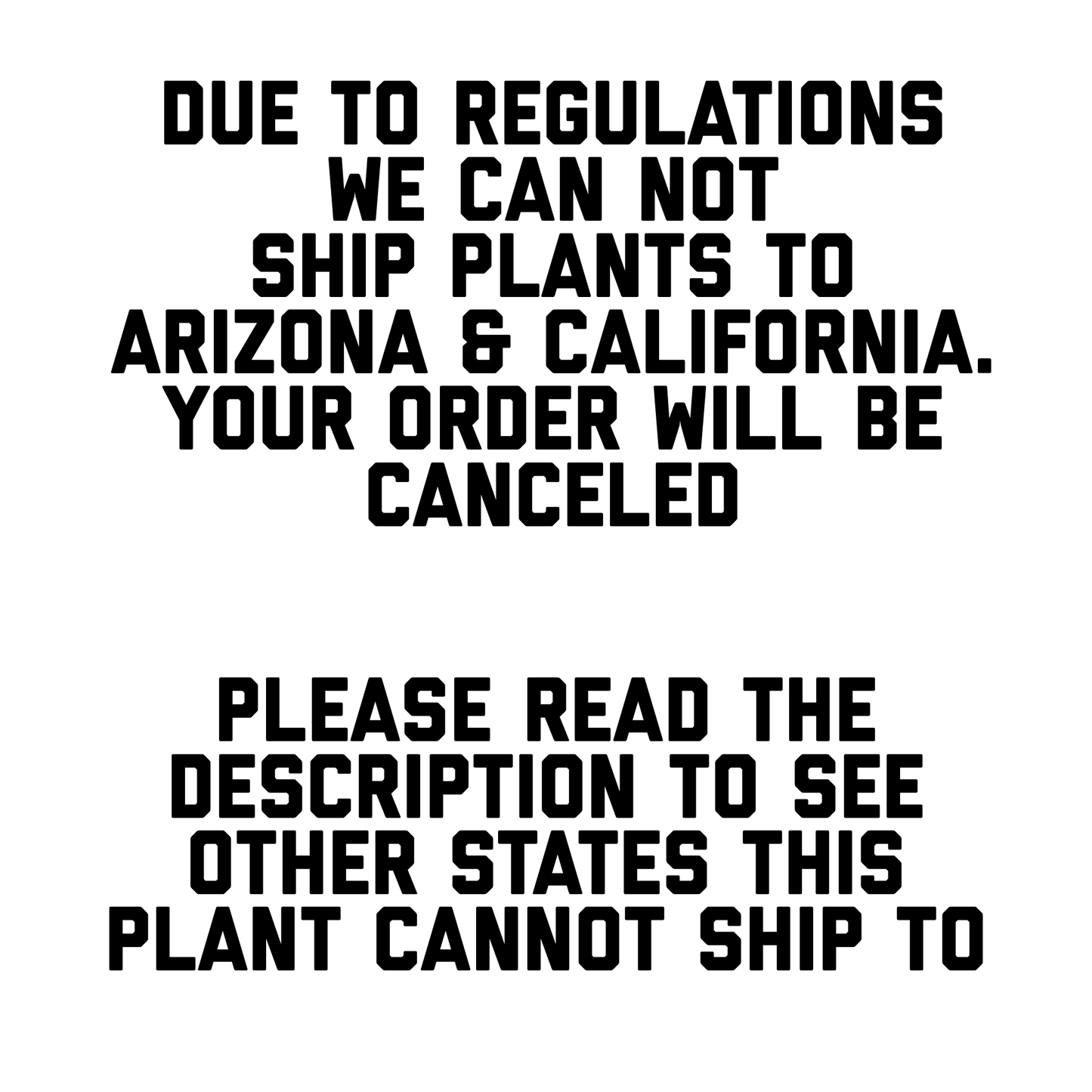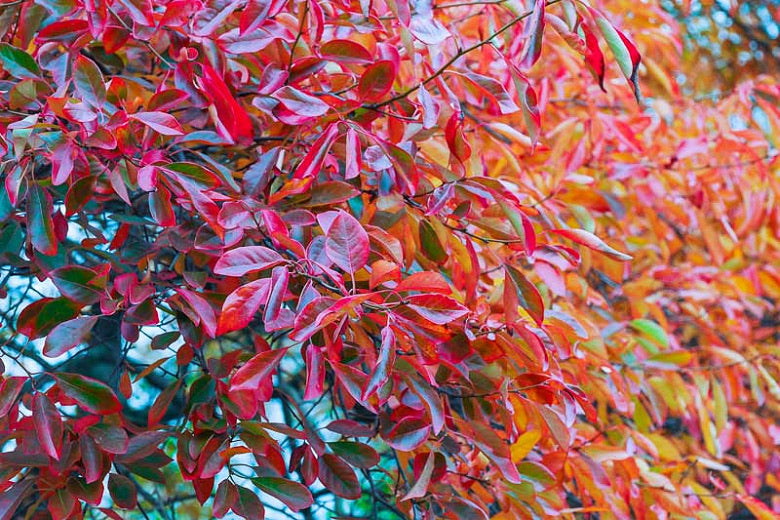 What Grow Zone Are You In? It Is Very Important To Know Your Grow Zone Before You Plant Anything In The Ground. If The Plant Cannot Tolerate Your Grow Zone, It Will Not Live.