Regular price
Sale price
$6.00 USD
Unit price
per
Sale
Sold out
 Fresh edible Pecans!

These are delicious family farm-fresh pecans! We do not spray our trees or our nuts! These pecans taste so good and are simple to crack and eat! Eat them fresh, use them for cooking or cracking and give them as gifts!


We have farm-fresh pecans in the shell! Fresh Missouri pecans do not get any better than this, shipped right from our farm to your doorstep!


If pecans are out of season we will freeze them to keep them fresh! You can also freeze the pecans when you get them to make them stay fresh for a very long time! These make great animal snacks, healthy food for you, awesome gifts for pecan nut lovers, making candied pecan nuts, and much more! Since there are nuts, please be aware of possible nut allergies before consuming.
View full details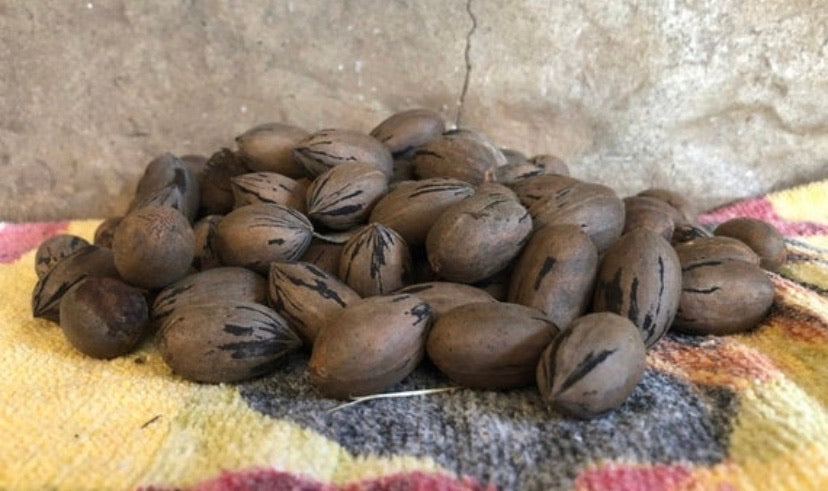 Pecan nuts
Good price. Very good soft shell nuts. Easy to crack. I just got done candying some and they are mouth watering good lol. I use a skillet with a little bit of brown sugar and butter and stir it all together on low heat for about 10 min making sure to cost the pecans well. Then let them dry. They are good
Thank you for your business! Candies pecans are excellent! Not to healthy though! you do yours similar to how we do ours too! Thanks!
Yum!!!
Some are big and some are a little small. I feel like the small ones taste the best but maybe my taste buds play tricks on me lol Anyway - they are yummy!
Thank you very much for your business!
Fresh pecans
Taste great. Nice size. Happy to know these aren't treated with tons of chemicals
Your right!! Thank you for your purchase! Enjoy!