Regular price
Sale price
$9.99 USD
Unit price
per
Sale
Sold out
We have 7 in stock
 The Forsythia is a fast-growing plant that is very popular. This has to be one of the most popular shrubs in the United States. These are well known for being one of the first plants to give you color in the spring! Beautiful yellow blooms in spring. Forsythia is also very well known to be a great privacy hedge. They grow so quickly you could have a hedge in just a few years' time under good growing conditions. Forsythia is considered one of the easier plants to grow and usually does not need much extra care after the first year or once the forsythia becomes established. Forsythia grows super fast and can give you privacy faster than almost anything else can! Grow, grow, as fast as you can, the forsythia is known for its one-of-a-kind early spring yellow blooms and its super-fast growth!
FORSYTHIA PLANT INFO 
Name: Forsythia
Other Names: Forsythia, golden bell
Grow Zone: 4 to 8
Growth Speed: Fast
Light Requirements: Likes Full to partial sun
Average Full-Grown Height: 6 to 8 ft
Average Full-Grown Width: 6 to 8 ft
Deciduous (loses Leaves) Or Evergreen (Holds Foliage All Year): Deciduous
Average Lifespan: 25 to 50 years
ESTIMATED SIZE
Sizing can vary, but the average height of the plant according to the pot size they are growing in is below. A larger pot size does not always prove a much taller plant, but you will have a larger root system.
Quart Pot — Up To 6" inches tall
Trade Gallon Pot 
— 6-12" inches tall
Shipping

All of our trees ship Bareroot which means they will ship with no soil and no pot. This allows the plants to have a safer trip through the mail as well as to cut down on shipping costs majorly. The roots will be carefully removed from the pot they are growing in, and then wrapped in moist material with the roots sealed up to keep them moist during transit. 
Shipping Restrictions

To follow your state regulations, we can not ship this plant to California, AZ, AK, HI

Deliveries to WA, UT, ID, NV, MT, ND, and SD MUST be shipped Bareroot.
View full details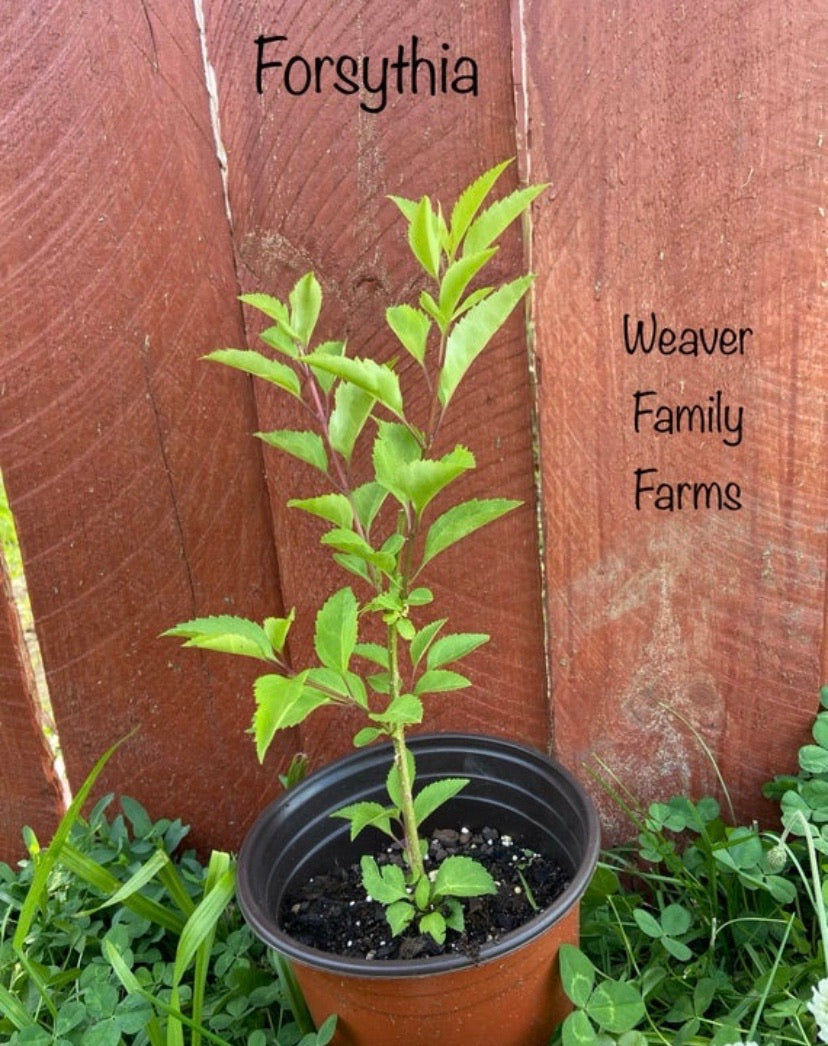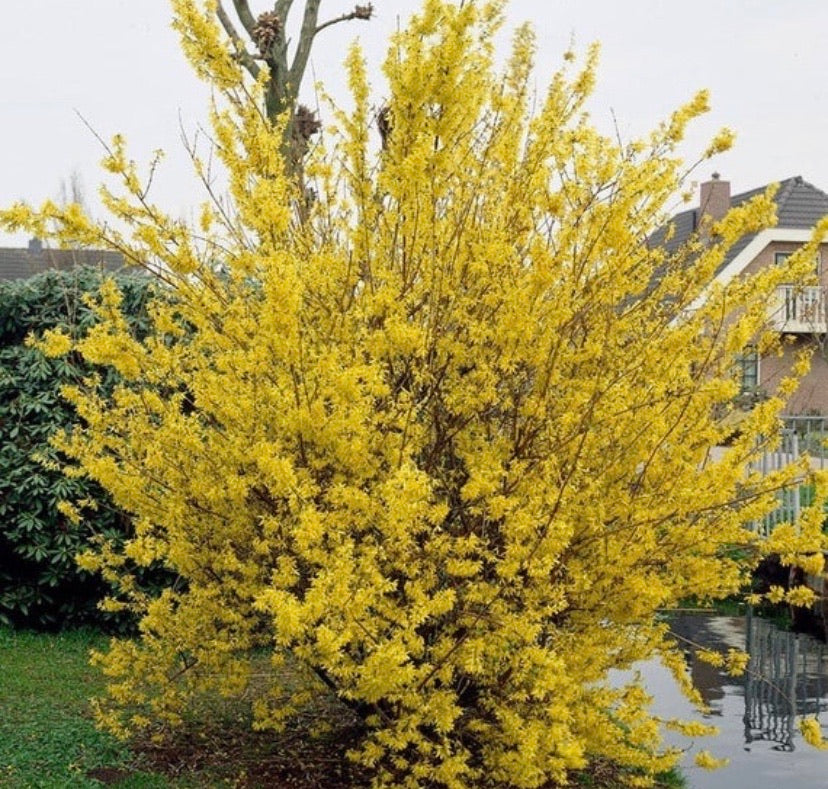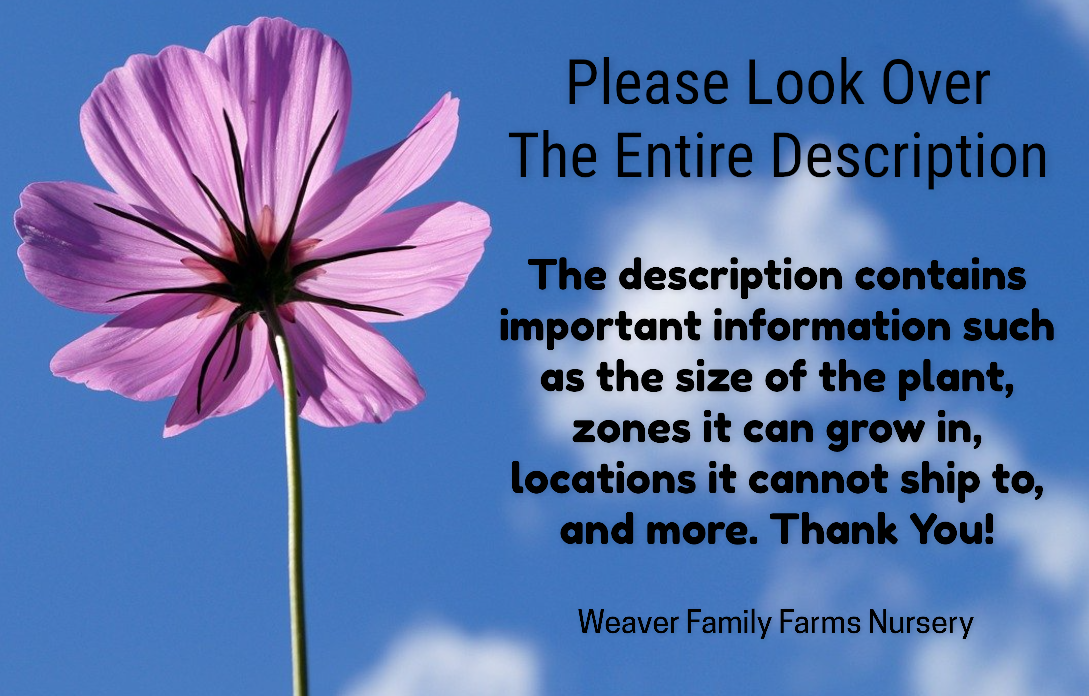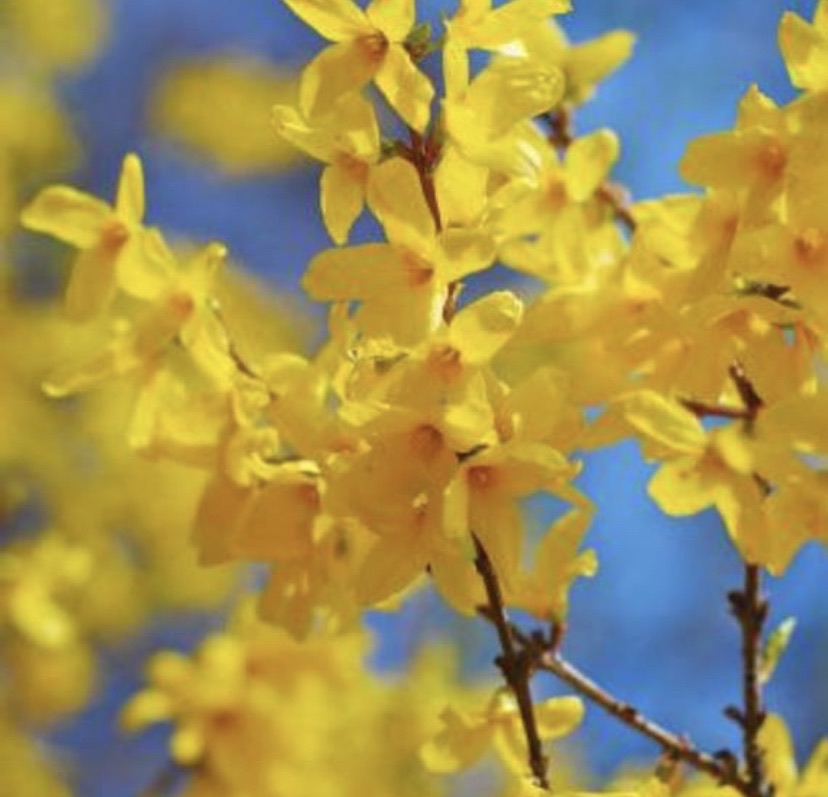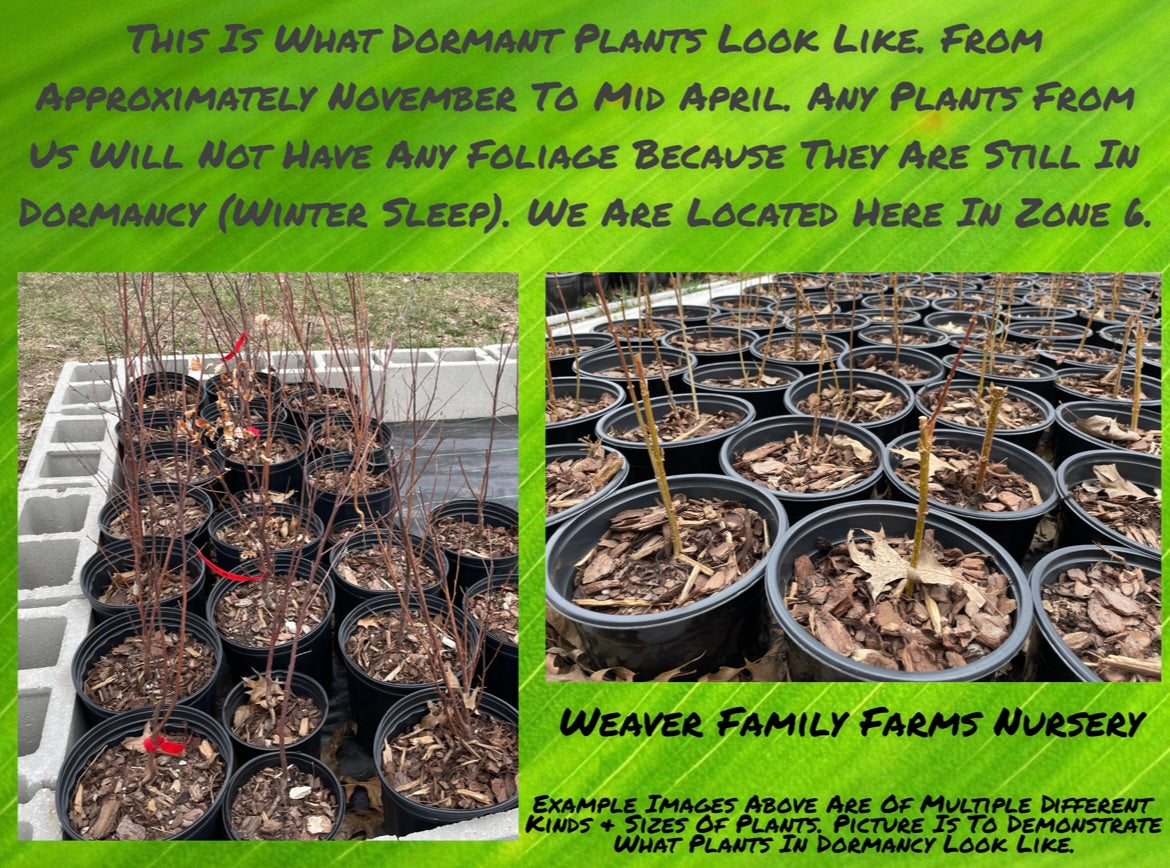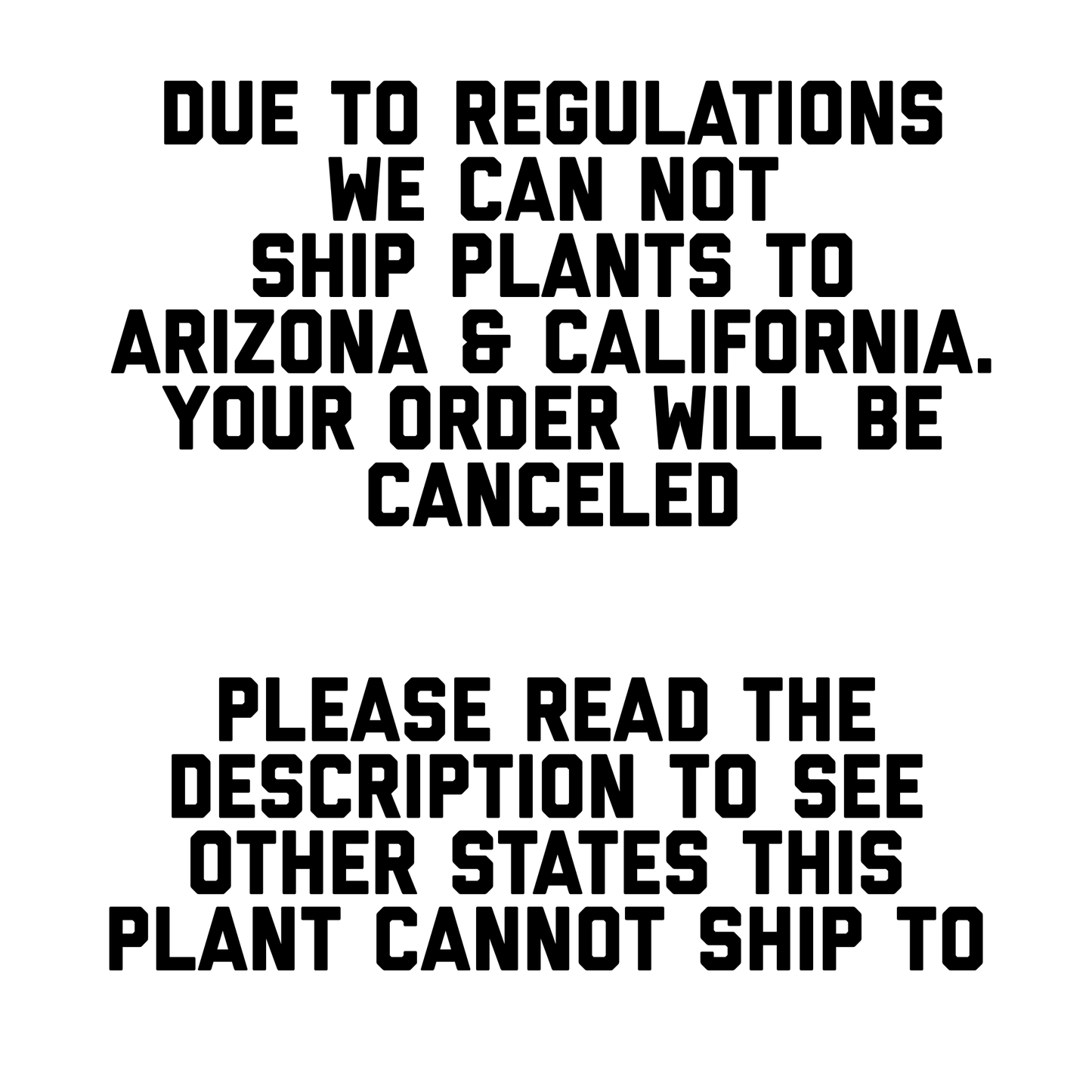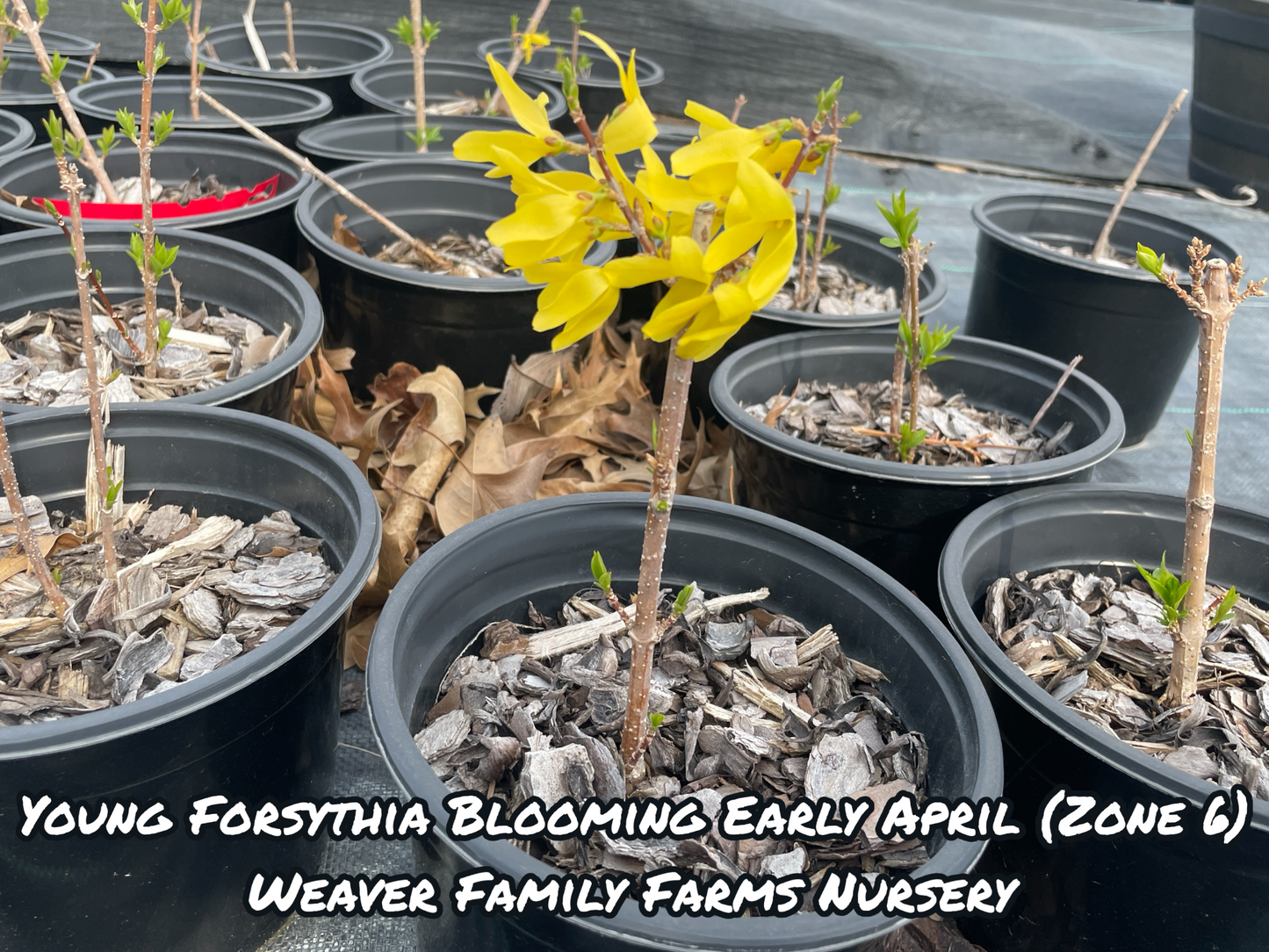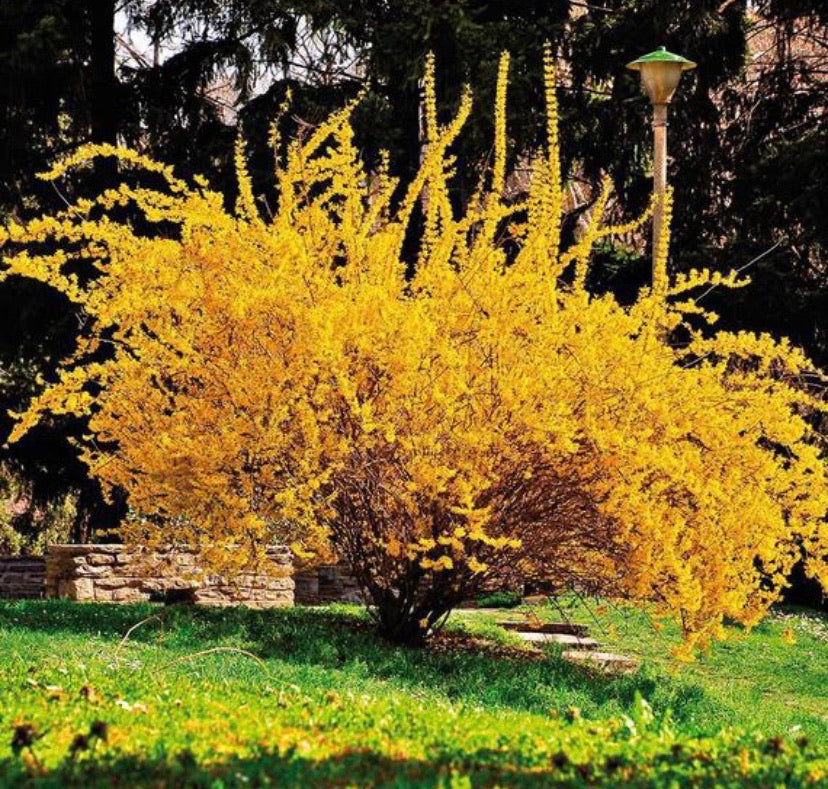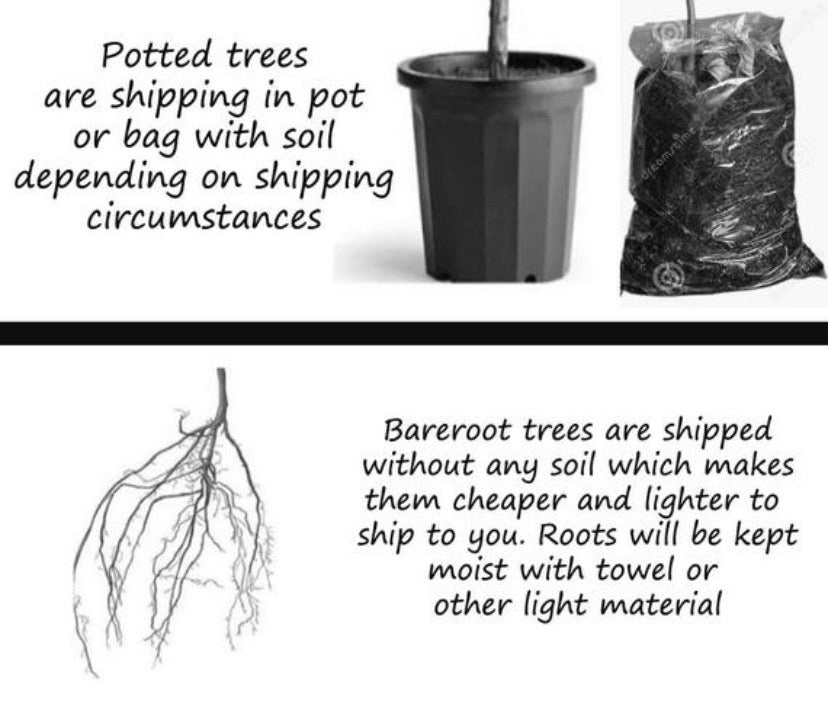 What Grow Zone Are You In? It Is Very Important To Know Your Grow Zone Before You Plant Anything In The Ground. If The Plant Cannot Tolerate Your Grow Zone, It Will Not Live.
great plants
This review is for the ordering and shipping process. I just opened the box and my 2 forsynthias bareroots appear to survive the shipping journey and it looked so healthy still! It is now soaking for the next 6-12 hours :)
Thank you very much! We appreciate you! Thank you for supporting our small family business!
-The Weaver Family
quite beautiful
My four little girls are quite beautiful. They had nice roots and I have already planted them in a pot, though not my yard as of yet. I would like them to get a little larger. They are growing, literally like "weeds." I'm very happy with them. The company only had four left or I would have reordered more of them. I'll post another pic of them later.
Thank you very much! We appreciate you! Thank you for supporting our small family business!
-The Weaver Family
absolutely great
Plants arrived absolutely great, no damage whatsoever. They have been in soil for about 2 days now, and have already grown a full inch with three leaves each. 10/10 would buy again!
Thank you very much! We appreciate you! Thank you for supporting our small family business!
-The Weaver Family
Happy forsythias
Buying to create a privacy headge fast from neighbors. Ordered 10 of these and they are bigger than expected and very healthy
Thank you very much! We appreciate you! Thank you for supporting our small family business! God Bless
-Weaver Family Farms Nursery
WeaverFamilyFarmsNursery.com
Healthy forsythia and river birch trees we got
So I left this review on river birch tree as well on that page but since it pertains to forsythia I am going to leave the review here as well. I had such a good experience!
I ordered two of these trees (river birch) and Weaver Family Farms Nursery had tried reaching out to me via email but my fault I didn't check my email. They was very courteous to let me know one of the trees was not quite advertised height but one was and this was the only two they currently had left ready to go. Like I said though I didn't check my email so they sent me both of these river birch and they also sent me a forsythia at no charge just to make up for the river birch being only like 3" shorter than they advertised in the description here. Which is no big deal to me. But I just wanted to leave this review to tell the public how above and beyond this family went to make sure they was fair to me and even wrote a note and put in the package explaining it and how if I still wasn't satisfied they would send me a tall river birch as soon as they had more available. There are still good people out there folks and the Weaver family is one of those good peoples!!
Thank you so much Jacob! We are far from perfect but we are very small family farm on 4 acres. We respect and appreciate every single one of our customers and want to make sure you have a good experience with our plants. We hope to help you again in the future! God bless
-Daxon Weaver